Seniors Corner-Important Senior Info.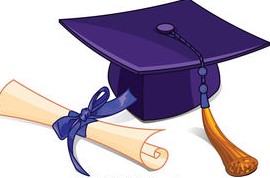 Graduation is just around the corner and there are a number of important dates to be aware of, as well as Graduation Ceremony details to be informed of. Please read this information and if you have any questions, please contact Krystal in the high school office.
Spring Semester Finals are: May 30th-June 1st, attendance is required.

Senior Breakfast (optional) is Friday, June 2nd @ 7:45 am, at the Multi-use.

MANDATORY Graduation Ceremony Practice - @ 8:30 am on June 2, 2023 at the Foltmer Field. Meet at the Multi-use. If a senior is not at practice, they will not walk during the graduation ceremony.

Graduation Ceremony Check In – Report to the Tallman Gym @ 4:30 pm. Seniors only.

The Class of 2023 Graduation Ceremony will be held Friday, June 2nd, 2023 beginning at 6:00 p.m. on Foltmer Field. Gates will open @ 5:00 pm

Caps & Gowns will be distributed to seniors at graduation practice the morning of June 2nd.

Caps, gowns, and graduation practice are MANDATORY to participate in the ceremony.

Stadium parking this year is only available to those displaying a handicap placard or license plate tag. The stadium does have wheelchair accessible ramps & seating. Please let us know in advance, if you or anyone in your family needs wheelchair seating. Call Krystal Clark @ 707-987-4140 x4100

Seniors will receive four (4) reserved seating tickets at practice.

Stadium seats will be available for purchase on May 15, 2023 for $10 per seat. You can purchase them online at https://middletown.myschoolcentral.com

The bleachers will be for overflow seating. No purchase necessary.

Senior Awards Night is May 25th, 2023 at 6:00 pm in the Tallman Gym.

__________________________________________________________________________________________________

Last chance! Deadline for Jostens Senior Dedication Page!

Attention Senior Parents! Act now! The deadline for a Senior Dedication Page in the yearbook is Thursday, February 9th! Don't miss out! For more information call Jostens at 800-358-0800 or visit www.jostensadservice.com/student. Flyers are also available in MHS Office!

Two ways to order your cap and gown......

Academic Affairs will be on campus February 3rd during lunch

OR Click the link to order your cap and gown www.academicnorcal.com. The deadline for the discount is February 15th. Order now!

Sober Grad for the class of 2023 needs your help.

Our next meeting will be Thursday night, Nov 10th t 6 pm in MHS room 10.

We have a Bingo night planned for December and a Wine & Chocolate event scheduled for February.

Please bring any donation items you may have for the auctions.

November 4th - Academic Affairs will be on campus during the mentor period to have a presentation for all Seniors.

November 10th - Academic Affairs will be on campus during lunch to collect ALL orders.

Attention Seniors and Senior Parents:

Financial Aid Application Workshop will be held on November 8th @ 6pm in Rm 10 B (Mrs. Pyzer's room) Please come with parent or guardian.

College Application Workshop will be held on 11/16/22 @6pm in Rm 10 B (Mrs. Pyzer's room)
These events are workshops. Please come prepared with your personal information, transcript (college app), etc.

Attention Juniors and Seniors! Please come to the high school office to sign up to take the ASVAB test. The test is scheduled for December 6th at 8am. More information to come.